Foundation
The Louise and Göran Ehrnrooth Foundation supports education, research, environmental protection, culture, and societal activities in Finland. The foundation realizes its strategy by giving long-term grants to persons, institutions, and organizations for scientific research or other charitable work that promotes the foundation's purposes.
The Louise and Göran Ehrnrooth Foundation gives long-term grants to innovative pilot projects. The foundation's grants should be noteworthy both for the foundation and the receiver. We actively follow-up our grants and evaluate the results of our input.
Notable grant receivers are for example the Univeristy of the Arts Helsinki, The Mannerheim League of Child Welfare, The Nature and Game Management Trust Finland and Baltic Sea Action Group's joint JÄRKI-project as well as the student exchange organizations Brittingham Vikings and SCANCOR-Harvard.
Honorary Award
To commemorate the 100th anniversary of Göran Ehrnrooth an Honorary Award was founded in 2005. The honorary reward is given for significant life-long work for the Finnish society as a commemoration for a whole life and its achievements both in Finland and abroad.
The Louise and Göran Ehrnrooth Foundation's Honorary Award has been given 12 times. Among others, the receiver's list includes the Crisis Management Initiative, founded by president Martti Ahtisaari and professor of economics Bengt Holmström.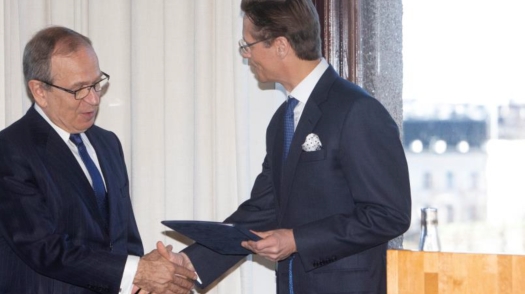 Award of Recognition
Since 2020 The Foundation gives an Award of Recognition to a person or an organization for promising groundbreaking activities within science, culture or the larger society fosters and supports the Finnish society and is internationally recognized.
Leadership Award in Memory of Infantry General Adolf Ehrnrooth
The Foundation grants annually the Leadership Award in Memory of Infantry General Adolf Ehrnrooth by recommendation from the General Headquarters of the Finnish Defence Forces to soldiers with exceptional leadership skills.
The Ehrnrooth Foundations
The Louise and Göran Ehrnrooth Foundation is one of four Ehrnrooth Foundations. Combined the Ehrnrooth Foundations support science, research, and societal projects with approximately six million euros annually. The other foundations are The Ella & Georg Ehrnrooth Foundation, The Magnus Ehrnrooth Foundation, and The Mary & Georg C. Ehrnrooth Foundation.